Home
Newsroom
Newsroom
The Latest News from Dabeeo
Suriname's Foreign Affairs Minister visits Dabeeo headquarters to discuss forest carbon offset project.
2023-10-16
조회수 526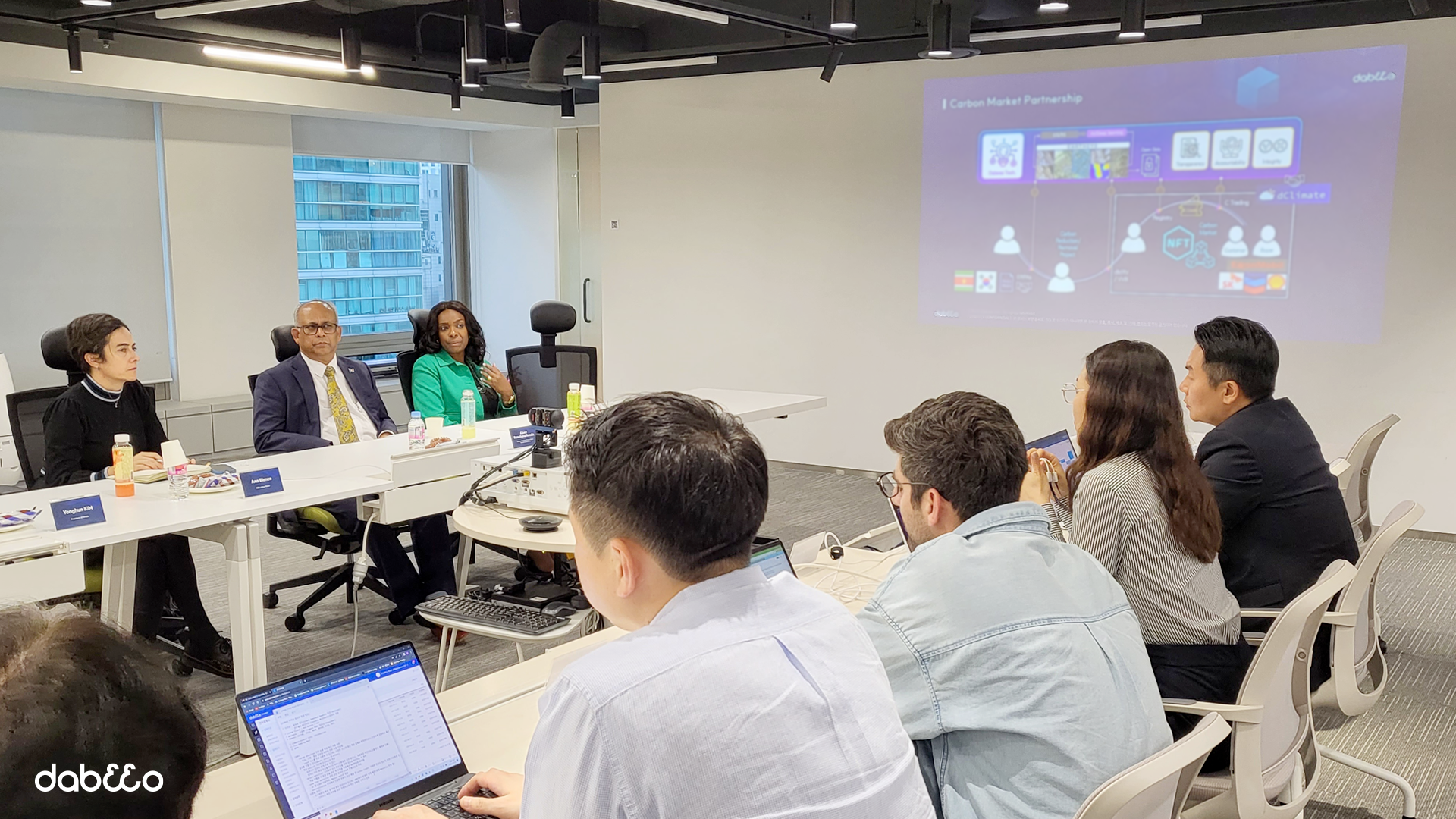 Albert Ramchand Ramdin, the Minister of Foreign Affairs of Suriname, visited the Dabeeo headquarters in the Republic of Korea on October 10th to discuss the potential and strategies for a forest carbon offset project.
Suriname, with approximately 94% of its land covered by tropical rainforests, is recognized as one of the countries that absorb more carbon than they emit, making it a significant player in the context of carbon offset initiatives. The vast forested areas within Suriname's borders serve as a compelling reason for Minister Ramdin's keen interest in forest carbon offset projects.
Several factors have made it challenging to commercialize forest carbon offset projects, and one of the primary issues is the absence of a credible Monitoring/Measuring, Reporting, and Verification (MRV) methodology for swift and precise analysis of extensive forested regions.
Dabeeo has already established a digital geo-spatial AI platform, Eartheye, for measuring and monitoring large-scale forests at the national level in near real-time, using 30cm-class satellite imagery and has been expanding its operations to countries such as Indonesia and Malaysia. By employing remote sensing technology based on satellite image analysis, they can accurately measure carbon sequestration within tropical rainforests, potentially solving the hurdles that have hampered such initiatives in the past. This capability was a key driver behind Minister Ramdin's visit.
The discussions on this day are considered a crucial step toward accelerating forest carbon offset projects. Dabeeo CEO Park Ju Hum expressed that "AI-driven satellite image analysis technology will open new opportunities for contributing to environmental protection and combating global warming." He also announced plans to introduce AI technology for natural environment monitoring related to climate change at the upcoming Global Green Growth Week 2023, which will focus on environmental and climate-related topics.
Dabeeo
Join Dabeeo on the path to becoming a global leader.