Home
Newsroom
Newsroom
The Latest News from Dabeeo
[GeoIntelligence] River Segmentation from SAR Image
2023-06-07
조회수 1130
[GeoIntelligence] River Segmentation from SAR Image
Dabeeo's geospatial AI technology, INTELLIGENCE is continuously advancing to automatically construct map data based on orthophoto. Our research team is particularly focused on refining the segmentation model, which accurately extracts essential building and road data from the images.
Please refer to the previous content about road segmentation from last month:
🔗[BLOG] 도로 세그멘테이션 후 노드-링크 연결 로직 개선
In this upcoming post, we will introduce a similar yet distinct research on river segmentation from road extraction. Find out for yourself!
---
The study area for this research is located in Indonesia, a region with a tropical climate near the equator. Consequently, optical imagery is challenging to use, requiring the utilization of SAR (Synthetic Aperture Radar) imagery. We previously introduced SAR imagery in the context of coastal 🚢object detection in our research content. Due to the unaffected nature⛅ of SAR imagery in meteorological conditions, it is more useful for object detection and analysis in the vicinity of the equator compared to optical imagery.
Referring the past article:
🔗[BLOG] [GeoIntelligence] SAR 영상을 이용한 딥러닝 기술, 객체 검출 Object Detection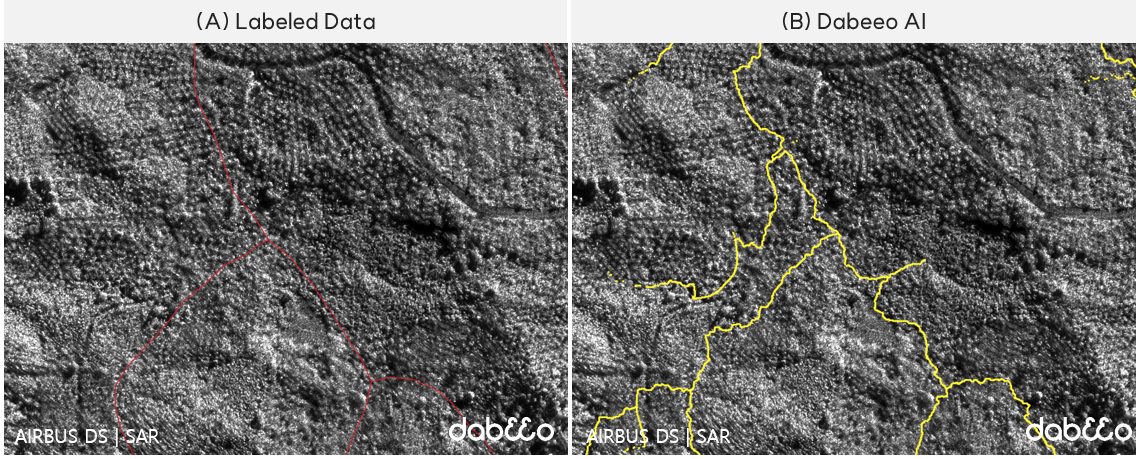 However, we encountered one issue. 🧐Extracted information from SAR imagery alone did not clearly distinguish whether it was a road or a strong object. It was difficult to differentiate even visually, so we needed a more objective metric. In our research team, the additional data we utilized for this purpose was the Digital Surface Model (DSM).
💡What is Digital Surface Model(DSM)?

A Digital Surface Model (DSM) is a three-dimensional representation of the surface, including the terrain and all objects (such as buildings and vegetation) on it. It is frequently mentioned in the field of Geographic Information Systems (GIS) when discussing the elevation of the ground. It is worth noting another related model called a Digital Terrain Model (DTM). A DTM represents only the height values of the terrain surface. By combining these two datasets (DSM and DTM), a Digital Height Model (DHM) can be derived, which can be used in 3D reconstruction for spatial reconstruction purposes.
By incorporating the Digital Surface Model (DSM), which allows us to see elevation, we were able to clearly identify the flow of rivers from high to low areas. Not only could we extract river information by distinguishing it from roads, but we could also observe the direction of the flow.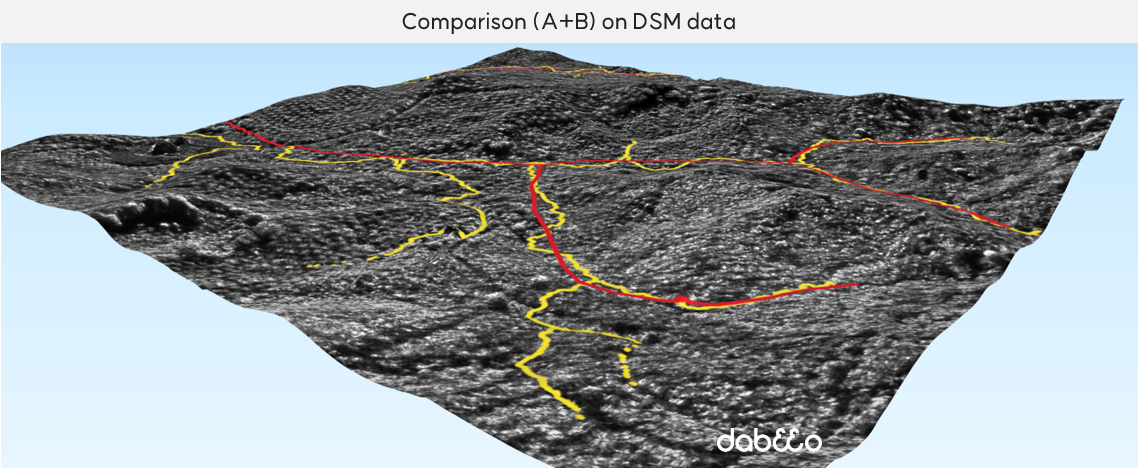 The data extracted using Dabeeo's segmentation technology for rivers lacks Ground Truth data, making it difficult to calculate accuracy 🏸. However, this research was significant as it provided more accurate and faster identification of river channels compared to previous methods.
⏩Moving forward, the next step of the research will involve extracting the width of rivers. While the previous results focused on identifying whether the data extracted through SAR imagery and segmentation techniques belonged to rivers or roads, the research will now progress further to extract the width of rivers.
---
How did you find the content on extracting river information based on SAR imagery? This study, which used the Digital Surface Model (DSM) to gain a clearer understanding of the desired data, is also expected to be applied in future businesses utilizing Dabeeo's intelligence 👏👏👏.
We appreciate your continued interest in news about various applications of Dabeeo's intelligence technology.
If you have any questions or inquiries regarding these matters, please feel free to reach out at any time.
Dabeeo
Join Dabeeo on the path to becoming a global leader.